You are currently browsing the monthly archive for January 2010.
This is the first video of a talk Graydon Parrish gave about his painting "The Cycle of Terror and Tragedy: September 11, 2001″ at the New Britain Museum of American Art on September 11, 2009.
The weather has been nice lately.  Enjoy!
Documentaries became my true entertainment for the decade.  When in the mood for a comedy, choose a documentary.   Ditto that for drama, action, and the news.
Newsworthy:
Outfoxed: Rupert Murdoch's War on Journalism
Grizzly Man
Makes me smile:
Spellbound (I could watch this a million times)
Word Wars: The Trials and Tribulations of the Scrabble Game Circuit
Crazy Love
Man on Wire
While you are in the mood for a documentary:
The Staircase
Who Killed the Electric Car?
The Thin Blue Line
King of Kong
Food Inc.
Supersize Me
Sicko
Where in the World is Osama Bin Laden
Once you are used to documentaries and not much else looks good, try these:
Vernon, Florida
King Corn
Roger and Me
Well, I got tired of linking everything; sorry.
For Film:
The most memorable movie of the decade for me was Russian Ark.  Perhaps it is unfair to compare other films to it.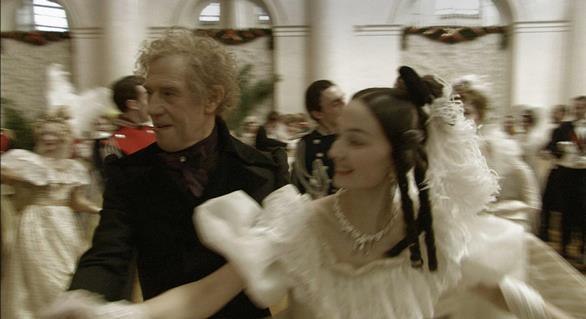 It is a film that is part play (filmed in one long take), part documentary (taking you through the history of the Hermitage), and part symphony (with a gorgeous score).  It is so enchanting and devastatingly beautiful.  Please watch it.
Happy 2010!  For me it is time to clean up and refocus.  I was clearing out the garage this morning in an effort to make room to park our van in while the temperatures are below freezing.  In one old, enormous container was stored some head studies from my Graduate days.  I used to paint head studies once or twice a week. The first thing Jonathan said when I showed him was, "Your style has really changed."  I think I have progressed and have started going down a different route.  Classical Realism is my new favorite; it takes much longer and yields a different result, one that is more statuesque and calm.  The impressionist style is a beautiful chaos.  I like the controlled manner of the Classical Realists.  Take a look:
The Classical Realists call this type of color theory "broken color":
This head study was painted from life back in 2001 or 2002.  My skin tones always came our very patchy.
This is a pencil sketch that I am working on now in preparation for a painting:
I will continue to smooth out some of those values on the back to keep from getting those exaggerated value changes.