You are currently browsing the monthly archive for March 2010.
I decided that I won't put any more photos of my kids online after the age of five, so that when they become teenagers and go online they won't have to fight against their own biography.
The finished 3′x5′ oil pianting:
Go to my flickr page to see the progression:
Day one, sketch and fix.
Day two, the sand, dunes and up the mesas.
Day three, the distant mesas.  I got much further than this on day three, but this is the last photo I took today.  By the way, this is the source for my painting.  I will be adding some clouds in the end.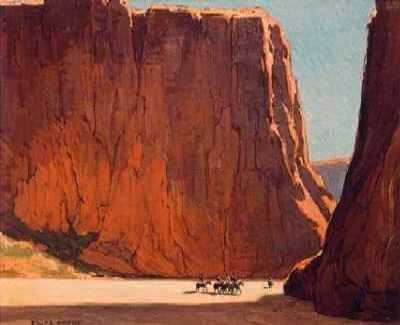 Edgar Payne is one of my favorite landscape painters.  I am using his work and style to influence the painting I am doing this week.  The painting is a three foot by 5 foot Western landscape for my parents.  They found some film stills from the John Ford movie, The Searchers, for me to work from.
When I was in high school I lived for catwalk fashion.  I had subscriptions to all the American fashion mags and spent lots of time at bookstore viewing the foreign Vogue magazines.  I guess I kind of overdosed on it, because now I don't pay much attention at all.  Today however, I came across a Dior collection that I love.  Fall is my favorite season, and this collection shows why it is so great for fashion.  Makes me want to paint.