You are currently browsing the tag archive for the 'oil' tag.
A photo I took during Vespers tonight.  Tomorrow we celebrate the Triumphal Entry of our Lord into Jerusalem.
We all went home with oil on our forehead and with a palm branch.  Tomorrow we have a pot luck meal instead of church school, so I don't have a craft this week.  Enjoy the feast!
Over the past 6 months, I sold and painted 24 head studies.
I started selling custom head studies in late January to boost sales in my Etsy shop.  Most people are not willing or are not able to spend hundreds of dollars on a portrait done by someone far away without seeing a finished piece in person.   So this was a way to keep working in portraits at a price an etsy.com shopper could afford.
I began by asking for 3 or more photos to choose from.  Some customers sent one, and sometimes that was good enough.  I often would ask them for more and would then give recommendations on how to photograph the sitter (I think I will blog about photographing for portrait paintings sometime soon).  There were other customers who would send me links to Shutterfly or Flickr accounts to look through dozens of photos for their head study.  I would always consult with them on my favorites and together we would pick the best one for the painting.
The Canvas
Part of the reason I was able to offer these studies for a low price was the canvas.  I had ordered canvas from an online art supply retailer who then accidently sent me a huge role of unprimed canvas.  It must be hundreds of yards long.  They made a major mistake on my order, so I overlooked what they missed and kept what they sent.  I have been using the roll for years (I even made a cover for our sandbox with it one year) and will be using it for years to come.  So I have to buy gesso/primer for it, and I like each canvas to be triple primed.  The head studies sell unstretched and rolled up in a tube unless the buyer pays a bit more to have it stretched.  Once the primer was dry, I used an HB pencil to sketch out the study.
The Paint
I used Winsor and Newton Artisan oils and mediums.  After setting my stop watch, I got started on the painting.  In order to keep from losing too much color quality, I painted with the image on my laptop next to my easel.  The first few studies I tried to do in a 2-3 hour time slot, but I found that 4 hours was necessary.  So I increased the price slightly and increased the time invested in each study.  In the last couple of head studies, I found I wanted to work for much longer: 5-6 hours or more.   What had happened was that I went up to New York for a workshop at Grand Central Academy of Art, and with the new techniques I was learning, I needed more time to work.
Stretching and Shipping
If a customer paid to have the canvas stretched, I would do that after I sketched and before I painted.  Some people waited until after the painting was finished to decide to have the canvas stretched, and others thought they would stretch the canvas themselves (many of my customers are artists).   Packing up a canvas was time consuming.  If anyone is considering working online, remember to calculate the price of  the time and materials it takes to pack and ship into your selling price.  I often underestimated and lost money and lots of time packing canvases and framed art.
Here are a few more examples of the studies that were sold:
I no longer will offer the head study in my shop.  Shipping them was one reason I wanted to stop selling online.  I also would prefer to work from life now, so if anyone in Tulsa or surrounding areas is interested in a head study, I would be happy to do this.  Generally when I work from life, it only takes what time I have with the model.  I don't get caught in a quagmire and rework the same spot over and over like I was prone to do with a still photo.  Other painters may know what I am referring to.
Here is a little tip for other painters:
One process that I used to work through a painting with problems was to photograph the painting and bring it into Photoshop.  I would use the layers palette and put the photo of the person on a top layer and put the photo of my unfinished painting below it.  When I would toggle back and forth between the layers, all sorts of drawing errors would pop out at me.  I would make a list of changes to be made and get back to work.  This is the same process I use when I work on my full-service portraits.  The truth is that sometimes I cannot see what I am looking at.  I cannot find the error.  This use of Photoshop has saved many paintings.  I highly recommend it.
The finished 3′x5′ oil pianting:
Go to my flickr page to see the progression:
Day one, sketch and fix.
Day two, the sand, dunes and up the mesas.
Day three, the distant mesas.  I got much further than this on day three, but this is the last photo I took today.  By the way, this is the source for my painting.  I will be adding some clouds in the end.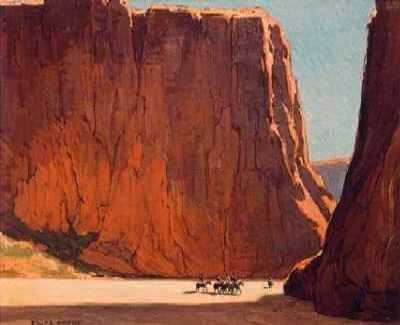 Edgar Payne is one of my favorite landscape painters.  I am using his work and style to influence the painting I am doing this week.  The painting is a three foot by 5 foot Western landscape for my parents.  They found some film stills from the John Ford movie, The Searchers, for me to work from.
Below is an 11×14 sketch on tracing paper.  I have started doing more prep work on my oil portraits to make sure I get the drawing correct first.  The extra time spend drawing here made the painting go so smoothly.  I highly recommend trying this.  I hope the buyer enjoyed having a pencil sketch along with the painting.
In the unfinished portraits you can see my yellow underpainting.  I don't know why I chose yellow, but it worked.   I started the color down in the hands and fabric to ensure that I didn't use all my energy on the face then rush through the fabric.  This worked well for me.
Here is the finished painting:

One hour color study from life in oil.  I just had a short time to paint.